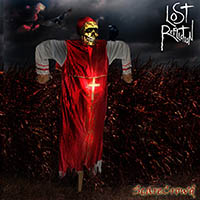 Title :Scarecrowd



Cat # ERDGT01002
Barcode : digital release
Rel Date: 2014

Tracks:


The Enemy U Know
Never Enough
Scarecrowd
Father Murphy
Hail to Rock
Faith of Fear
Sleepless (love is All we Need)
No One
R'N'R Nation
Armageddon



Lost Reflection was born in 1996 and takes its name from a song by Crimson Glory.

In early 2005 Fabrizio Fulco (guitarist) moved to Florida to join Crimson Glory guitarist Ben Jackson's solo project in his Ben Jackson Group as bassist.

After this great experience, Fabrizio returns to Italy to dedicate himself again to Lost Reflection.

The band will release 3 albums: Florida (2011), Scarecrowd (2014), Trapped In The Net (2018). On support tours Lost Reflection will share the stage with Gilby Clarke (Guns'n'Roses), Avenging Benji (CRIMSON GLORY), Geoff Tate's Operation: Mindcrime (Queensryche), Thomas Silver (Hardcore Superstar), Adam, among others. Bomb, Tygers of Pan Tang, Kissin 'Dynamite, Nashville Pussy, Rain, Elektradrive, David Ellefson (Megadeth).