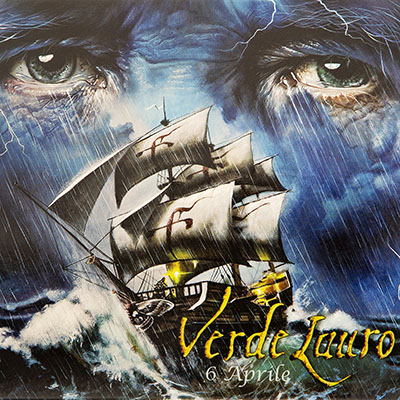 Title: 6 Aprile



Cat # ERDGT01004
Barcode : digital release
Rel Date: 2020

Tracks:



6 Aprile 1327
Benedetto sia 'l giorno
Movesi il vecchierel
Or che 'l Ciel et la Terra
Quando la sera
Tutto 'l di' piango
Con lei foss'io
Già fiammeggiava
Mille fiate
Del Mar Tirreno
E' questo 'l nido
6 Aprile 1348




'6 Aprile' is the second album by Verde Lauro, created by the Italian-Swiss singer Fabrizio Sassi, which follows the debut album 'Son animali al mondo' which saw the participation of numerous guests, including Roberto Tiranti and Alessandro Del Vecchio.

Unlike 'Son animali al mondo', this second chapter was designed and created to be played live. The orchestrations were reduced and the verses were selected to be repeated in chorus.

At the level of compositions, those that narrate another passage from the neverending story were chosen, and in particular the passages that play on the root of the name Laura. Precisely for this reason "6 Aprile" is perhaps a less elaborate and symphonic album than its predecessor but this is its strong point, the "song" form of its pieces, much more powerful and direct.

Petrarch meets Laura for the first time on April 6, 1327. Laura dies on April 6, 1348. The numbers of the Canzoniere are part of the story and are used symbolically. No number is random. Starting with the fragments that make up the mosaic. 366. Like a year that repeats itself forever.

As for the lineup, Andrea Grumelli joined (in the first album the bass was played by guitarists) and Federico De Zani took over the drums. Mattia Stancioiu (Ex Labyrinth) preferred to stay behind the mixer and give up the pedals, but NEVER take away the production!

The guests are Morby from Domine and Marcello Zappatore on guitar. Drakkar singer Davide Dell'Orto has become a full member of the group. Laura's identity is always a secret and also appears in some passages of this record.