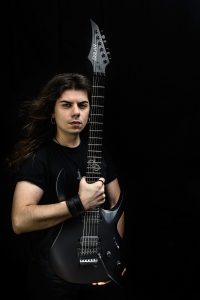 Alessandro De Fusco, aka Alexander Layer, is an Italian guitarist student at the Conservatory of Music "San Pietro A Maiella" (Naples) and Lizard Academy (Rome). His musical influences are Heavy metal, Power metal, Progressive metal and Classic music.
In 2018 he composed his first solo album "Fenrir", a record where the guitar's aesthetics isn't introduced with high numbers of virtuosity that
dominate other instruments, but the instrument's role merely consists of the narration of Celtic and Norse mythological stories right dose of guitar technique but without detracting from the singing.
In 2019 he began to collaborate with Elevate Records Label. He published his second album "Huggin Munnin",and the audience had the opportunity to appreciate the renowned participation of MARCO SFOGLI and DAVID FOLCHITTO as special guests.