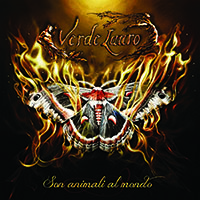 Title :Son animali al mondo



Cat # ER23030
Barcode : 0806891306876
Rel Date: 20 0ct 2020

Tracks:


Voi ch'ascoltate
Son animali al mondo
Valle che de' lamenti miei se' piena
Zephiro torna
Era il giorno
Questa fenice
L'vidi in terra
Erano i capei d'oro
Passa la nave
Giovene donna
Solo et pensoso
Se Virgilio
La vita fugge
Laura
Se lamentar augelli
A qualunque animale alberga in Terra
Quanto più m'avicino al giorno extremo
Pace non trovo
Passa la nave
Zephiro torna

Available on LTD digipack, 'Son animali al mondo' the first album by Verde Lauro.
Verde Lauro is a Swiss / Italian supergroup founded by Fabrizio Sassi and formed by:
Pier Gonella (Necrodeath, ex Labyrinth) e Francesco Marras (Screaming Shadow) at guitars
Mattia Stancioiu (Crown of Autumn – ex Vision Divine), drums
and Mauro Desideri (VeraEuridice) at keyboards.
At the vocals, besides obviously to Fabrizio, we find
Roberto Tiranti (Labyrinth, New Trolls),
Davide Dell' Orto (Drakkar),
Alessandro Del Vecchio (Edge of Forever)
Emanuele Rastelli (Magnifiqat).