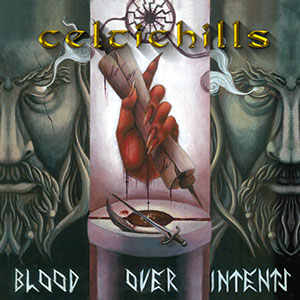 Title : Blood Over Intents



Cat # ER23029
Barcode : 0806891306869
Rel Date: May 2020

Tracks:


Forum Julii
Blood Flows Down
A Happy Abdicant King
Time
When The SnowCover The Ground
Beer For All
Avarii Horn
Celtic Hills are a historic group from Udine (North Italy) formed in 2010 and with two albums under their belt.

Led by guitarist /singer Jonathan Vanderbildt , their powerful and melodic music at the same time, refers to melodic Death Metal groups but with strong power influences, straddling Amon Amarth and early Helloween.

Their album entitled 'Blood Over Intents' has been  released on April 24, 2020 on all digital platforms, and in May on CD.

Blood Over Intents is their most mature album and is composed of seven powerful and melodic tracks at the same time inspired by heroic and epic themes.