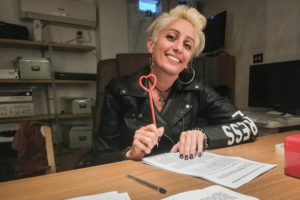 We are pleased to announce the signing for Elevate Records by Aetherna.
Aetherna is an Italian metal band from Rome and plays a heavy metal ranging from Gothic metal to classic Hard Rock and characterized by the powerful female voice of Germana Noage. The other members of the group are Vincenzo Zappatore (solo guitar), Vittorio Flumeri (rhythm guitar), Marco Di Marco (bass) and Luigi Iesu (drums). Since their beginnings, Aetherna have always favored the live dimension and, in addition to numerous solo concerts they have been an opener for artists such as Michael Angelo Batio, Teodasia di Giacomo Voli, Vivaldi Metal Project with maestro Mistherya,Sailing to Nowhere, Pino Scotto and Lacuna Coil.
They also participate at various local metal festivals starting to be known and appreciated for their unpublished pieces.
In January 2018 they enter the studio to begin recording their first album entitled 'Darkness Land' whose release is scheduled for late September 2019 on Elevate Records.
The first video lyric 'Sounds From Nowhere' will be released at beginning of June