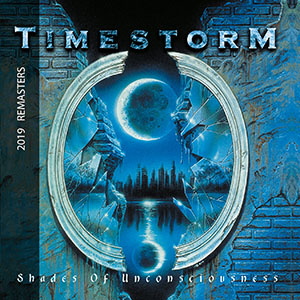 ER-04012
Release date 31/05/2019
Finally available in digital format on all major platforms "Shades of Unconsciousness", the debut album by Timestorm, practically impossible to find on CD at the moment. TIMESTORM is a band founded in 1997 by Fabrizio "Faber Troy" Troiano (solo guitar), Marco Migliaccio (rhythm guitar, second voice) and Gianluca Maccarone (drums).

Shades Of Unconsciousness was published in April 2000 and distributed in Europe by Audioglobe / SPV obtaining excellent feedback from all over the world. It was also released in Korea by Novella Records and is generally recognized as a cult album of its kind. Unfortunately the band broke up in 2002.

After several attempts, Faber Troy manages to bring the TIMESTORM back to the scene with a new singer Pierpaolo Calore, the new guitarist Giuseppe Longo (ex Windrow), Marco in the new role of bassist and Gianluca always on drums.

The band returns to its live debut in January 2016, but soon after it separates from the drummer. Andrea De Carolis (De La Muerte, 5Rand), after a few concerts, was invited to join the band and becomes the official drummer of TIMESTORM. In October 2016 another line-up change and Claudio Vattone (Edenslave) becomes the new singer of the band. In the 2016-2018 period, Paolo Campitelli (Kaledon) plays the role of keyboard player for live appearances only.

In the last 3 years  TIMESTORM have played many concerts in Italy with important artists such as: Edu Falaschi, Angra, Firewind, Vision Divine, Russell Allen and the Metal For Kids Unite Festival, among others.

The band is currently completing the writing of new material to be released in 2020.
Line-up:
Claudio Vattone – voce
Fabrizio Troiano – chitarra
Giuseppe Longo – chitarra
Marco Migliaccio – basso
Andrea De Carolis – batteria
*Paolo Campitelli – tastiere (live shows only, 2016-2018)