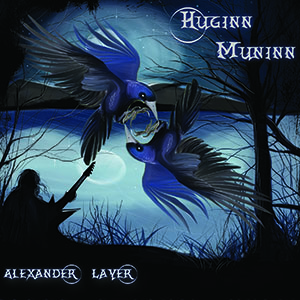 Alex is a very young electric and classic guitarist. His musical influences are Heavy, Power, NeoClassical Metal and of course classical music. Having studied at the 'Consevatorio' and having graduated in guitar, the technique is a predominant element in Alexander's compositions, even if it is always put at the service of the melody and the structure of the song.
In 2018 he composed his first solo album "Fenrir", a record where the aesthetics of the guitar is only a narrative voice of stories, Norse and Celtic mythologies, with the right dose of guitar technique, without taking anything away from the melody. The disc was released in digital and physical cd attracting the attention of Virtuoso Records that decided to put him under contract.
on 8 November 2019 the new work 'Hugin Muninn' is released.
David Folchitto on drums (Stormlord, Fleshgod Apocalypse, Gravestone) and Marco Sfogli (James Labrie and Premiata Forneria Marconi among many) take part in the album as guests.
The disc is an ideal continuation of 'Fenir' and takes up the ideas further developing them. The themes are always linked to Norse mythology, starting from the cover and from the title: Huginn and Muninn are the two crows of Odin who travel the world bringing news and information to their master. Huginn means thought while Muninn remembers.
And the last explosive track of the album is dedicated to Odin and this duopoly, where Alexander duets with Marco Sfogli supported by the powerful drumming of David Folchitto.
To support the disc, an Official Playthough Video of the song Grimnismal was released a few days ago