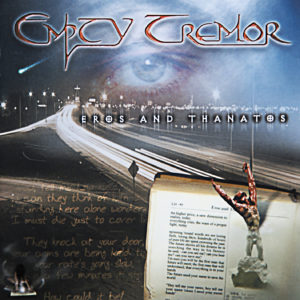 Empty Tremor : Eros And Thanatos
Finally digitally  reprinted Eros and Thanatos, the second album by Empty Tremor, recorded in 2000 for ELEVATE RECORDS. This album immediately became a cult record for lovers of a certain progressive metal a la Dream Theater.

The sounds were already present in the first Apocolokyntosys album and this follow-up continues in the same musical groove, smoothing out the symphonic part and trying to privilege a more refined and mature sound.

Even though the Empty Tremor owes much to the aforementioned Dream Theater, they have a rather original style that alternates between decidedly melodic parts and ultra-technical openings that make the joy of those who love a certain technical but powerful sound at the same time.

After years in which this album has become practically impossible to find, it is now re-proposed in digital format in its Japanese / Korean version, which includes 10 tracks, one more than the European one, with 'Lost in The Past' re-proposed also in demo version.

Empty Tremor will continue their career with two other albums, the last one in 2010, equally beautiful, where they may be slightly more immediate, but Eros And Thanatos remains an essential album in their discography and a must for every progressive and progressive metal lover.
Credits:
Giovanni De Luigi lead vocals, backing vocals
Christian Tombetti electric guitar, acoustic guitar
Marco Guerrini electric guitar, acoustic guitar
Daniele Liverani keyboards
Dennis Randi bass guitar
Stefano Ruzzi drums, percussion