We fina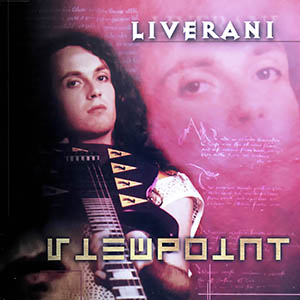 lly manage to publish digitally VIEWPOINT the first solo album by Daniele Liverani.  Daniele is well known for his activity with Empty Tremor with whom he made three albums (the second one on Elevate Records) before leaving the group to focus on a solo career
Viewpoint is a sort of progressive metal guitar-oriented project, which was attended by brilliant musicians such as drummer Julio Mathis II, bassists Ricky Wolking (Jennifer Batten) and Joey Vera (Armored Saints and Fates Warning).  In addition to guitars Daniele also plays keyboards.
After this album Daniele's career will continue brilliantly playing with some of the greatest musicians – Mark Boals, Lana Lane, Daniel Gildenlow (Pain Of Salvation), Chris Boltendahl (Grave Digger), Russell Allen (Symphony X), Edu Falaschi (Angra)Steve Walsh (Kansas), John Wetton, Midnight (Crimson Glory), just to metion few –  but Viewpoint is an essential record for those who love Daniele and his music and we at Virtuoso are proud to have produced it.
A piece of our past is available again.