We are pleased to announce that  Infinite Records and Elevate Records have reached a partnership agreement for the release of "Anthems of the world" the official tribute album to StratovariuS which will take place on May 27th.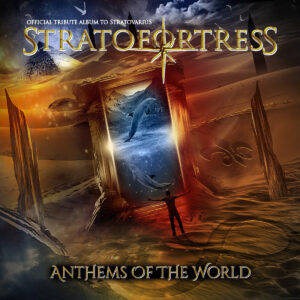 The album will be marketed and distributed by both labels, and will be released in both physical (CD) and digital versions in all digital stores.
"Anthems of the world" is an album that contains 14 highly successful songs completely re-recorded and reproposed by great artists such as :
Mike LePond (Symphony X), Mistheria (Bruce Dickinson, Vivaldi Metal Project), Beto Vazquez Infinity, Eagleheart, Sunrise , Marko Pukkila (Altaria), Bob Katsionis (Firewind), Patrik J Selleby (Bloodbound, Shadowquest), Juhani Malmberg (guitarist of Timo Kotipelto) to name a few and include the extraordinary participation of
TIMO TOLKKI ,
MATIAS KUPIAINEN
and JARI BEHM.
Precisely for this reason it is not the classic tribute album but it is the first ever in which current and past members of the paid band participate. This tribute album for us is the best way to say "Thank you!" to current and past members of this band for all the great music they have left us in the legacy. These songs have taught us to play and in a certain sense also to live by giving us strength in the most difficult moments and joy in the most beautiful moments shared in their concerts for example. This album comes from the bottom of our hearts as true StratovariuS fans for true StratovariuS fans.
TRACKLIST AND VERY SPECIAL GUESTS
Destiny (StratospherE – StratovariuS Tribute (since 1999) – feat. Timo Tolkki)
Hunting for ups and downs (Kublai Kapsalis feat. Jari Behm (former Stratovarius bassist) and Elmas MT (Vivaldi Metal Project)
Black Diamond (BETO VAZQUEZ INFINITY)
Distant Skies (Marko Pukkila feat. Juhani Malmberg (guitarist of Timo Kotipelto)
Eternity (Dark Horizon)
Hold on to your dream (Heart Attack feat.Bob Katsionis (Firewind)
Anthem of the world – Andrea Atzori Tales and Legends (On the vocals Patrik J Selleby (Bloodbound, Shadowquest)
Paradise Heaven Denies
Shine in the dark (Magma Lake)
Suonare con il fuoco (Gépmadár feat. Peter Schrott (The Voice of Hungary)
Father Time (Iliour Griften feat. Mike LePond (Symphony X Mike LePond's Silent Assassins), M ° Mistheria (Vivaldi Metal Project, Bruce Dickinson of Iron Maiden) and David Folchitto (Fleshgod Apocalypse, Gravestone)
SOS. (HEART OF THE EAGLE)
The kiss of Judas (Silent Saga)
Happy Days  (Sunrise)